History and Ceremonies

History and Founders
• History of ITAM
• Raúl Baillères
• Alberto Baillères
• Presidents

History of ITAM

Instituto Tecnológico Autónomo de México (ITAM), previously known as Instituto Tecnológico de México (ITM), was founded on March 29th, 1946, by the Asociación Mexicana de Cultura (Mexican Cultural Association) - a renowned group of bankers, industrialists, and businessmen who, led by Raúl Baillères, worked to make higher education the driving force behind industrial and economic change in Mexico.

Since its foundation, the Institute sought to educate professionals capable of generating and promoting a new development model for Mexico in technical, administrative, and economic spheres. The School of Economics, the pioneering program of our Institute, was the main force behind this goal. In 1947, the High School and School of Business Administration were founded. For the first four years, the Institute was located at 518 La Palma Street.


The Fifties: A Decade of Expansion and Growth

In February 1950, the Schools of Economics and Business Administration, as well as the High School, were transferred to a building located at 65 Serapio Rendón Street, Colonia San Rafael. ITM worked to consolidate its image in academic circles throughout the 1950s. Enrollment, which in the beginning amounted to 52 students, grew to 500 students by 1951, in part due to the opening of the Public and Private Accounting program. In 1954, ITM made the decision to close down the High School for it entailed high expenses for the Institute.

By the end of the fifties (1958), the Institute moved to especially customized facilities at 350 Marina Nacional , on the corner of Lago Zirahuén Street, Colonia Anáhuac . A year later, the Business Management program changed its status in order to be upgraded as an undergraduate program in Business Administration.
The Sixties: A Decade of Significant Changes

During this decade, two significant events that defined the Institute's educational and university framework took place. The first was the publication of the decree in the Diario Oficial de la Federación (Federal Official Gazette) on January 19, 1963, with which the Mexican President López Mateos, through the Minister of Public Education, Jaime Torres Bodet, granted ITM its "Autonomy" and the ranking of Escuela Libre Universitaria [Independent University School].

The second consisted of launching the Comprehensive Development Plan (1969-1977) on October 6, 1969. This plan included the implementation of substantial academic, administrative, and organizational modifications to ITAM, among which the following stand out:
The division of programs into departments for the purpose of increasing academic excellence .


Modifications to the three programs in order to create common courses .


The physical unification of the three schools (Economics, Accounting, and Administration) to be located on a single campus (Marina Nacional).
In 1969, the Institute proudly began to use its present name: Instituto Tecnológico Autónomo de México (ITAM). In 1985, the Ministry of Public Education, headed by Jesús Reyes Heroles, signed the decree that allowed the institution to adopt its current name.
From the Seventies to the Nineties: A New Campus and New Programs

In the seventies, ITAM underwent an accelerated growth, which lead to the creation of several new academic programs (Applied Mathematics, 1974; Social Sciences, 1975, and a Masters in Business Administration, 1974). On March 29, 1978, the Institute moved to its current campus at 1 Río Hondo Street, Colonia Progreso Tizapán.

Since then, various modifications have been made to upgrade ITAM's infrastructure and services, as well as to increase the variety of ITAM's undegraduate programs:
Law (1980)


Actuarial Science (1982)


Computer Science (1983)


Political Science (1991) which replaced Social Sciences


International Relations (1992)


Telematics Engineering (1993)


Industrial Engineering (1997) and joint programs: Business Administration and Public Accounting and Financial Strategy, Economics and Political Science.
An important event in ITAM's recent history has been the inauguration of the Centro de Investigación y Estudios de Posgrado [Center for Research and Graduate Programs], located at 939 Av. Santa Teresa, Colonia Héroes de Padierna, on April 16, 1991. This center is mainly devoted to research development, instruction of graduate programs, continuing education courses, as well as top management programs.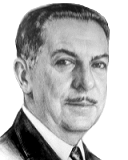 Raúl Baillères

Instituto Tecnológico Autónomo de México (ITAM), previously known as The Instituto Tecnológico de México (ITM), was founded by Raúl Baillères on March 29, 1946. His love for Mexico, along with his desire to establish an academically excellent institute of higher education that would become the driving force for industrial and economic change in the country, led him to lead a group of renowned businessmen and bankers interested in education to establish the Asociación Mexicana de Cultura , A.C., [Mexican Cultural Association], ITAM's founding entity.

Until his death in 1967, Mr. Baillères was both the president of this association and an important promoter of our institution's growth, for twenty years. Thanks to his remarkable persistence, Mr. Baillères persuaded the President of Mexico, Adolfo López Mateos, to sign the decree that granted ITAM its autonomy on April 10th, 1962.

Despite lacking a formal education , Mr. Baillères, a self-educated businessman, forged an impressive career in the business world through hard work, perseverance, and a natural flair for business. He worked with many leading Mexican companies helping them to expand and train several generations of businessmen.

Born in 1895, in Silao, Guanajuato, Mr. Raúl Baillères learned about commerce and trade from his father Alberto Baillères. At the age of 20, he arrived in Mexico City and began to work at Casa Lacaud , at the Chase Manhattan Bank Office, and as a representative for the New York Equitable Trust Co.. During this initial period, he also founded a business to export silver, gold, and other precious metals.

Since his youth, Mr. Baillères had become a prominent figure in Mexico's banking and business sector by establishing several companies. In 1934, for example, he set up the first financial company for mining activities: Crédito Minero, S.A . He later went on to create Crédito Hipotecario, S.A . and Crédito Afianzador, S.A ., among other companies.

He consolidated his business leadership during the forties, by leading the acquisition of several firms and by holding the presidency of the Asociación de Banqueros de México [Mexican Association of Bankers] (1941-1942). In 1941, he headed a group of Mexican investors that managed to acquire the majority of Cervecería Moctezuma, S.A .'s shares, a company owned by foreigners at that time. During the same period, he directed the financial group that became the main shareholder of El Palacio de Hierro, S.A. and Manantiales Peñafiel, S.A ., and played a significant role in the nationalization of Metalúrgica Mexicana Peñoles, S.A. and Compañía Fresnillo, S.A..

For many years, Mr. Baillères was an integral member of Grupo BUDA , through which he developed several large-scale business projects. Salvador Ugarte, Mario Domínguez, and Ernesto J. Amezcua also participated in this group and went on to participate in the Asociación Mexicana de Cultura .

Mr. Raúl Baillères died in Mexico City on January 3, 1967. He was an erudite, whose knowledge of the world was acquired through his love of reading and travel. Tireless, dynamic, and enterprising, Mr. Baillères is still with us today through his priceless legacy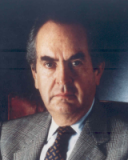 Alberto Baillères
• Culver´s Man of the Year 2001 The Iron Will
• Granting of an Honorary Ph.D to Mr. Don Alberto Baillères (in Spanish)
• Alberto Baillères' Prologue for the book "El Futuro de la Alta Dirección" (in Spanish)
• ITAM's Fiftieth Anniversary (in Spanish)
For the last 35 years, Alberto Bailléres has been the President of the Asociación Mexicana de Cultura (Mexican Cultural Association) and the President of the Board of Trustees of his alma mater , Instituto Tecnológico Autónomo de México (ITAM). Under his leadership, ITAM has become one of the most prestigious universities in Latin America . In gratitude for his contributions to Mexico 's social, educational, and business development, ITAM awarded Mr. Baillères an honorary Ph.D. in 1999.

The Culver Military Academy in Indiana , from where he graduated in 1950, instilled in him a sense of order and discipline which he has practiced in both his personal and professional life.

In 1951, Mr. Baillères took his first position at the Banco de Comercio , where he worked his way up to the position of Branch Manager whilst still an undergraduate student. In 1957, he graduated Magna Cum Laude in Economics from ITAM and, a year later, entered the Cervecería Moctezuma Sales Department as a sales representative and was soon promoted to Metropolitan Area Sales Manager. Due to his extraordinary performance, he went on to hold various positions in different areas of this brewery: in 1964, he was appointed General Director and, in 1967, President of the Board. In 1964, he was also named General Director of El Palacio de Hierro, S.A. , the most prestigious department store in Mexico , where he carried out an ambitious re-structuring program that resulted in the present growth and success of this company.

Throughout his career, Mr. Alberto Baillères has been known for his innate leadership. His broad experience and solid business expertise have been recognized both in Mexico and abroad. From 1973 to 1977, for example, he was a member of the Chase Manhattan Bank Advisory Committee, headed by Mr. David Rockefeller, and since 1967, he has been a member of the Consejo Mexicano de Hombres de Negocios, A.C. (Mexican Businessmen's Council).

Fervently patriotic, Mr. Baillères has created and founded various Mexican companies. He is currently the Chief Executive Officer and President of the Board of a wide ranging group of major Mexican enterprises, many of which he founded: Grupo BAL : Industrias Peñoles, S.A. de C.V., Grupo Nacional Provincial, Profuturo GNP, Aseguradora Porvenir GNP, Valores Mexicanos, Crédito Afianzador, Grupo Palacio de Hierro and Grupo de Agri-negocios BAL. Moreover, s everal companies, such as Grupo Financiero BBVA-Bancomer, Fomento Económico Mexicano, Cerveza FEMSA and Desc Sociedad de Fomento Industrial , among others, have invited him to become a member of their Board.

Along with his strong business perspective, Mr. Baillères is known for his deep commitment to all aspects of culture (since 2003, he has acted as the President of the Fundación para las Letras Mexicanas [Mexican Literature Foundation]) and education, both of which he holds to be key elements for Mexico 's development. His outstanding career in Mexican business and education fields has been built up progressively over the years due to his exceptional abilities and strict discipline, qualities he has shown in each of the many key positions he has held throughout his life.
| | |
| --- | --- |
| | Arturo Fernández Pérez, President (1992 to date) |
| | Javier Beristain Iturbide, President (1972-1991) |
| | Antonio Carrillo Flores, President (1971-1972) |
| | Joaquín Gómez Morfín, President (1968-1971) |
| | Enrique Moreno de Tagle, President (1967-1968) |
| | Gustavo Petricioli Iturbide, President (1967) |
| | Agustín De la Llera, President (1952-1967) |
| | Eduardo García Máynez, President (1946-1951) |
| | Raúl Baillères, Founder |